Resilient flooring – also known as 'vinyl' or 'sheet vinyl' – has been around for decades and is still one of the most popular types of flooring.
Today's resilient flooring is manufactured much in the same way it always has been, yet the styles and technologies have evolved with the times.  And today, Mannington resilient flooring contains recycled content — in fact, they're the ONLY manufacturer to incorporate recycled content into this product.  Mannington also pioneered the use of ultra-low VOC, water based inks (VOC's are "volatile organic compounds", which can be detrimental to indoor air quality) back in the late 1980s. All of Mannington's vinyl products are made in North America.
Luxury Vinyl Sheet
Mannington's Luxury Vinyl Sheet (LVS) has become a fan favorite for its versatility, durability, beauty, and comfort. Thanks to exclusive NatureForm® 4G technology, LVS brings colours that are richer, which provides stunning visuals throughout your home. With patterns ranging from realistic wood grains to elegant stones and rustic slates Mannington's LVS has something just right for you and your family. To  view  Mannington's  sheet  vinyl  please  click  here.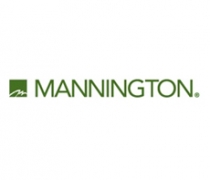 Mannington's resilient flooring offers many benefits. Always fashion-forward, Mannington has won dozens of style and design awards over the years. And when it comes to performance, it's second to none, featuring exclusive technologies like ScratchResist™ for resistance to everyday household scratches, Guardian™ Protection and a unique Never Yellow Warranty™.
These standards for high quality products, commitment to customer satisfaction and environmental initiatives align perfectly with the Twin City Tile business philosophy.